The Practical Carpenter
Our friend, Clint Harp from HGTV's Fixer Upper and DIY Network's Wood Work, is everyone's favorite carpenter because of the way he takes DIY to the next level. He's a reclaimed wood-loving, dumpster-diving machine, and now you'll have the opportunity to seek out his advice live at the Deseret News Home Show, October 12th-14th.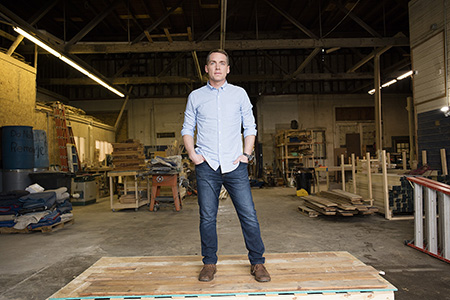 Outside of his TV life, Clint and his wife Kelly are busy with a design business of their own in Waco, Texas. Harp Design Co. was founded with a dual focus of caring and giving. Together they create handmade furniture, meant to bring people together.
Now, this successful carpenter and family-man alike will be sharing his story and a few of his secrets in his new book Handcrafted. Part memoir, part manual for dreamers, Clint provides thoughtful insight for those seeking to pursue their authentic path. Released only a few days ago on September 25th, Handcrafted is now available at Amazon, Barnes & Noble, Target, Audible and more.
Can't wait to pick up your copy and see Clint at the show? We caught up with Clint ahead of his Design Stage presentations. Check out our fun Q&A below.
Q: What's your favorite easy DIY project?
Clint: "A shelf! Find a cool piece of wood in your garage or in someone else's scrap pile and make a shelf! With some simple brackets from a home improvement store, you can make a really fun shelf with very little effort."
Q: What decor items are worth splurging on?
Clint: "I'm biased, but I would say all furniture. Ask around and the things that get handed down from generation to generation are tables, beds, dressers, benches and chairs. Spend money on things that last and you will bless generations of people long after you're gone."
Q: What is one thing you wish every home owner knew?
Clint: "That it's better to spend the money up front and get it done right, than to take shortcuts. If you don't have the money yet, live with what you have until you can afford the real deal."
For design inspiration, visit Clint's website. Talk carpentry and home improvement with Clint on the Design Stage Friday. October 12th at 5pm and Saturday, October 13th at 11am and 4pm. Don't have tickets yet? Buy online to save $2. We can't wait to see you at the show!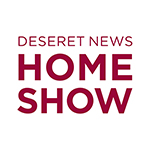 OCTOBER 12-14, 2018.
MOUNTAIN AMERICA EXPO CENTER
Oct 10, 2018, 12:46 PM