What's Cooking at the Show
Oct 2, 2019, 19:57 PM
This fall at the Deseret News Home Show don't miss Karen Folcik on the Kitchen Stage sharing delicious and family-friendly meals made easy. Karen is a wife, mother of two and a published cookbook author. Her book Happy Tummies: A Cookbook For New Mamas is full of delicious and nutritious meals for infants. Written for the busy and modern mom, with evidence-based research, this book is perfect for little ones moving towards solids. It was recently featured on MarthaStewart.com and Karen has made appearances on SirusXM radio, several magazines, and at local events.
Make your tummy happy, go cook with Karen Folcik at the Kitchen Stage, as she shares delicious and family-friendly meals made easy.
Join Karen on the Kitchen Stage:
- Make Ahead Fall Favorites: Saturday, October 12th at 2:30pm
- Feel Good Comfort Food: Sunday, October 13th at 1:30pm
Follow Karen on Instagram for quick ideas! @happytummiescookbook And be sure to follow us, too! @SLCHomeShow
For more family-friendly recipes, check out: Happy Tummies: A Cookbook For New Mamas. Available on Amazon. Read on to enjoy one of our favorite recipes from Karen, sweet potato banana muffins. Yum!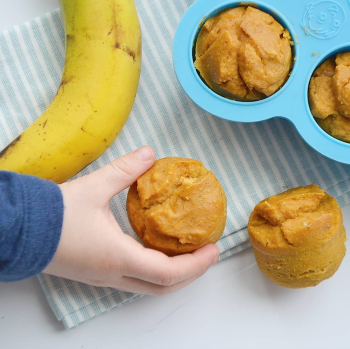 Sweet Potato Banana Muffins
These (flourless) sweet potato banana muffins are an easy and wholesome breakfast or snack for the whole family. You wouldn't know it eating them, but they are made without butter, sugar, oil or flour! It comes together in a blender, and cooks in under 15 minutes, so it's totally doable for a weekday morning or busy afternoon.
INGREDIENTS:
• 1 Cooked Sweet Potato
• 1 c Canned Sweet Potato Puree
• 2 Bananas
• 2 Eggs
• ¾ c Smooth Peanut Butter
• 2 t Pumpkin Pie Spice
• 2 t Baking Powder
• Cooking Spray
TOPPINGS:
• Chocolate Chips (maybe mini chocolate chips)
• Hemp Seeds
• Shredded Coconut
DIRECTIONS:
1. Preheat your oven to 350 degrees. Spray a muffin pan with butter cooking spray.
2. Place all the ingredients (except the baking powder) in a blender.
3. Blend on high until smooth. Then add the baking powder and pulse to combine.
4. Use a large cookie scoop to scoop the batter into muffin tins. Then add toppings if you want them.
5. Bake for about 12 minutes, or until a toothpick comes out clean.
Get more delicious recipes and cooking tips at the Deseret News Home Show, October 11-13 at the Mountain America Expo Center. We can't wait to see you at the show!