Kids Cook-Off
It's a kid's cook-off competition weekend this year at the Deseret News Home Show, October 13th – 15th at the South Towne Expo Center. Children and teenagers alike will gather for a few friendly competitions fueled by sugar! Hosted by none other than our favorite local culinary artist, Chef Nettie Frank, the fabulous creator behind Beyond Glazed Donuts.
"Gathering In The Kitchen" is the theme of the Kitchen Stage. What better way to bring people together than a little healthy competition? Kids will be split into two groups depending on age. The youngsters will compete in our Cupcake Challenge and teenagers will be doing a Doughnut Frosting Challenge! Talk about a sweet way to kick off the Home Show.
Last year we saw some pretty tough cookies in the competition. So, we decided to reach out to Chef Nettie and get some advice for this year's competitors.
3 Tips From Chef Nettie:
1. We want to see creativity, presentation and of course taste!! Practice a few times at home before getting on stage.
2. We will be throwing in a few secret ingredients, so be ready for anything!
3. Have confidence in yourself and the product you prepared. Don't be intimidated once you get on stage and see what the others are doing. Focus on you!
Don't miss these cooking competitions live on the Kitchen Stage. The teen Doughnut Frosting Challenge is Friday, October 13th, 5:00 – 8:00 P.M. Kids Cupcake Challenge is Saturday, October 14th, 1:00 – 4:00 P.M.

The Deseret News Home Show will be taking over the South Towne Exposition Center October 13-15, 2017. With hundreds of home improvement experts, this is a must-attend event. Get your tickets now!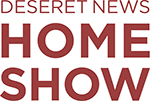 SOUTH TOWNE EXPOSITION CENTER
OCTOBER 13-15, 2017.
Oct 10, 2017, 21:03 PM